Member Spotlight - Caruthersville Public Library
Submitted by

admin

on Tue, 2019-11-12 14:51
Caruthersville Public Library is located in Caruthersville, MO in the "boot heel" at the bottom of Missouri. Their mission, to be "The lifelong learning center of Pemiscot County," is primarily pursued through its efforts in improving literacy, consumer health information, and workforce investment and job training. They serve a population of nearly 6000 residents in what has been the poorest county in the state.
Since 2015, the library has reached out to the community in many diverse and unusual ways. They have checked out bicycles/helmets and fishing poles/tackle boxes and hosted everything from escape rooms to baby showers in the conference rooms and regularly hosting classrooms in the afternoons for home bound students. Through LSTA grants, they have been able to obtain new laptops and iPads. The library was also able to obtain a digitization grant from the State of Missouri Historical Archives to digitize every county newspaper from 1891 to 1966, which enables free and easy access to a wealth of historical information on their web site http://cville.lib.mo.us. The most recent grant is an Edge Action Plan grant for AWE Early Learning tablets, which are being used primarily for young children with various kinds of disabilities. Caruthersville Public Library is also thrilled to be part of the prestigious "Small Libraries Create Smart Spaces" grant from OCLC. This grant brings a focus on active learning and allows Caruthersville to offer more activities that their community wants, like cooking classes and DIY instruction, as well as a small coffee area for citizens to enjoy.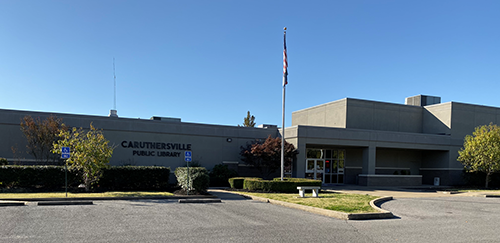 Caruthersville Public Library prides itself on never saying no to requests made by their residents. They are a community hub or center where programs and activities take place throughout the year for patrons of all ages and they take an active role in the city and its initiatives, including reporting at every city council meeting about things taking place in the building.
Formerly under the financial auspices of the City of Caruthersville, the library initiated a sales tax referendum to be placed on the ballot in August of 2017. The community overwhelmingly approved this half-cent sales tax for the library by an 83% positive vote, and the library now has the funds to make much-needed physical improvements to the facility as well as having more available funds for programs. Each afternoon at the close of the day, every child in the building receives a small healthy snack to take with them as they leave. For some, this may be the only evening food they have, so the library understands the importance of this small gesture.
"Our staff takes advantage of the wonderful professional development offered only by Amigos, as well as being part of the Missouri Evergreen consortium which is now being fiscally managed by Amigos. We appreciate Amigos' attention to even the smallest of libraries and are so honored to be selected for this member spotlight."
Check out the Caruthersville Public Library web site or   Facebook for more details and for their calendar of events.